Retractable Stanchions for Crowd Control & VIP Partitioning
---
Queuing Stanchions - Retractable Belt Barriers & Accessories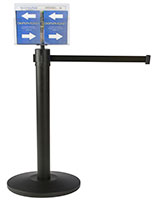 Did you know that retractable stanchions are available separately as well as in complete sets? Many businesses choose to create their own customized portable metal stands and belt barrier configurations. Commercial grade crowd control barriers, commonly called retractable stanchions, systematically arrange clientele for easy customer service in almost any location. Banks, service organizations, the department of motor vehicles, airports and retail shops all use crowd control barricades to queue organized lines. These retractable stanchions, also known as a line queuing system, blocks off restricted areas at events, simplifies ticketing, changes arrangements and reconfigures selections quickly and efficiently to maintain organization. Restaurants, dining halls and other hospitality venues often use these to serve customers in an orderly fashion. Any building with an area for serving food, such as churches, schools and airports can use these units to organize patrons. Museums and galleries frequently queue visitors upon entry as a means of security. These crowd control supplies offer quality post and rope supplies for keeping the flow in an array of venues. A line queuing system dresses up a venue, while providing effective belt barriers to prevent customers from entering VIP areas, traversing onto the red carpet or touching items that are off limits. Metal fixtures can separate groups at premieres, grand openings, commercial expos or other large scale events in addition to being invaluable to the day-to-day operation of many businesses. This line queuing system is as effective at managing guests as it is dressing up the décor at an event. The category is made up of all of the retractable stanchions available from QueuePole, Tensabarrier, and Tempaline with compatible accessories.
What components do these line queuing system with belt barriers consist of?
Steel retractable stanchions with nylon belting have stable metal base in areas that receive a great deal of foot traffic. The crowd control stands will remain upright in convention centers, bars or simple banking lines thanks to the wide and weighted platform. Rust resistant steel fabrication will last a long time. Bases are rubberized at the bottom to prevent floor scratching and scuffing as well as tipping.
Poles are also made out of steel with a finish that matches the base. Customers can choose from a few different finishes. These poles have the traditional round design for a sleek and upscale appearance. The 40" models are tall enough and quickly attach to the base. Rugged materials ensure that the borders work effectively.
A nylon belt with Retracta-belt design is included with purchase of the metal models. These ropes are 2" high and range in size to create the optimal queue. Purchase these accessories in 6'7" or 9'7" sizes. Black, blue, gray colors are available as well as brighter bold solids such as red, green and striped.
How easy are these commercial crowd management tools to assemble?
It is important to point out that all of the portable line configurations are shipped knockdown to save on shipment costs. These savings are passed onto the consumer and reflected in the price of the deluxe steel models. However, the assembly process is simple and only takes a few moments.
Managers are able to place the base in the appropriate position on the floor. Each base includes a screw for carefully attaching the unit. Simply turn the pole until tight on the platform and it will be ready for belting attachment.
Installing the belting is extremely easy. Users need to attach the clip on the rope into the four way adapter at the top of the unit. Depending upon the desired queue arrangement, managers can choose to use any one of the four. The retracting belt fits into the adapter and automatically locks into place.
These crowd control supplies with stand-alone components allow businesses and event planners to create custom barricades that fit their unique venue layout and setting. These fixtures come in black, brushed or powder coated steel finishes to make a professional statement in any environment. This featured post design eliminates the need purchasing too many systems. Coordinate an interesting color scheme for the party or store décor by using blue, black or gray nylon belt barriers. These Retracta-belt queuing ropes offer top quality at a low price, especially when purchased in bulk. Shop our online store for foot traffic management accessories with a neutral design to suit any establishment. Setups like these may be arranged in countless ways to organize guests or customers at VIP events, trade shows, fundraisers, and parties. Create a straight or serpentine queue for people to wait. This quality supplies enables effective crowd control. There are many possibilities with modular base poles and mounting brackets to organize people so that foot traffic flows. These queuing barricades hail from the popular QueuePole, Tensabarrier, and Tempaline selection of supplies. When shopping for crowd management tools, be sure to shop this line for a blend of style and function.