Stanchion Message Signs hold Stock or Custom Wayfinding Information
Sorry, nothing is currently available here. More may be back in stock soon! For more details or help finding alternatives please contact us via phone or live chat during operating hours.
---
Stanchion Signage - Metal Post & Rope Frames for Messages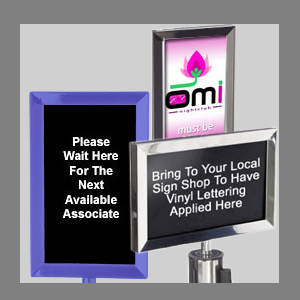 What makes stanchion message signs a great addition to queue posts in a lobby or near a cash register? The retractable belt signage holders promote the latest goods, services, events, protocol and other information to customers who are waiting. Clients standing in line are much more receptive to reading messages because there is little to do while awaiting customer service. Queue stanchion message signs with metal enclosures, commonly called crowd control frames, can provide wayfinding information, instruct customers on where to go or advertise new products that shoppers may have overlooked while browsing through the store. Foot traffic display signage can generate buzz about brands that are being added to current stock or changes to services offered. Retractable belt message holders are able to provide customers with little reminders such as, "Line Forms Here" or "I.D. Required." Post and rope accessories can help ensure that the foot traffic from customers in a queue remains moving in an organized manner. Our wholesale stanchion message signs are crowd control frames that can even designate VIP or special guest areas, so important visitors know where to go. Retractable belt signage holders are a very simple way to arrange an orderly line and market to waiting customers at the same time. This type of messaging is extremely easy to attach to barricades. No tools are necessary when installing the holders on the barrier poles. Different colors and orientations are available to best coordinate with differing retractable belt systems.
What are the features of these accessories for crowd control frames?
These stanchion message signs are heavy acrylic panels that come pre-printed with standard messages and can be easily ordered with custom lettering as needed. Sturdy designs ensure that the framing options will last a long time. The accessories are double sided and have an extender on the base for attaching the unit to the post. No additional hardware is necessary for installation.
A hard PVC backer is provided for supporting the signage while on display. The rugged backing is constructed out of durable material to hold the poster in position. Many businesses elect to put vinyl lettering on the black backer to promote with custom messages. The PVC surface is very versatile and strong.
Plastic lenses are included with the retractable belt holders to protect the contents from potential damage. The anti-glare fronts stop dust and other detrimental elements from entering the frames. Two clear lenses are offered to protect both sides of the framing.
What options are available with these metal crowd control frames?
Pole and rope accessories are available in different colors. Customers can choose from silver, black or gold finish metal framing to match standard fixtures, or from bright shades to complement decor.
Managers can choose message signs for holders in different orientations as needed. Portrait or landscape format may be selected when choosing frames. Advertisers should consider the orientation of the promotions before choosing a specific model.
Some customizable retractable belt signage holders include a PVC backer. Customers have the option of writing vinyl messages on the material instead of using 7" x 11" or 11" x 7" pictures. Businesses interested in vinyl lettering should consult a local signage shop for custom messages.
Installing content to control foot traffic and attract attention from people waiting in line is very simple with these topper accessories. The signs feature a slide-in design that allows users to load the panels through the top of the unit. Double sided designs allow users to attract customers on both sides. Simply twist the framing into position and let customers see the attractive messages and images. From stock messaging to customized text, our pole toppers help businesses keep customers organized and informed.