Red Carpet Runners for VIP Events, Weddings, and Graduations
---
Red Rollable Carpet — and Aisle Rugs for Special Events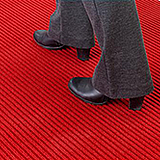 What's the most cost effective way to dress up an event space? Our red carpet runners and rug kits come in two eye-catching shades of crimson in polyester and nylon. Create an Oscar-worthy entrance to a VIP function using temporary event carpeting, brass stanchions, and a step-and-repeat backdrop. Cushion a trade show booth to keep staff comfortable and make the displays more noticable. Our red carpet runners make a statement at any function, from a patio cocktail party to a graduation ceremony. Invest in temporary event carpeting to save thousands in rental fees over the long term.
What are the perks of buying VIP aisle rugs?
Our red carpet runners come in two sizes: 4'x 20' and 5' x 10' in an eye-catching scarlett hue. Polyester construction keeps the price low, but this flooring offers a lush look that is extremely durable and easy to maintain.
These rugs are great for conventions and corporate events, weddings and memorials, cocktail mixers, company parties, fairs and events with photo booths and games, and much more.
This flooring has a 15 oz. face weight and PVC backer that prevents slipping to ensure safety at important events. The shorter size works well in standard trade show booths.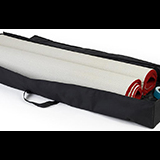 Our premium rollable rug kits for trade shows come in two sizing options: a set of two 5' x 10' strips, and a set of 10' x 10' pieces that can be cut into 10' x 10', 5' x 20' and 15' x 10' configurations.
The vibrant fiery color of these runners in a luxurious medium-high pile adds color and comfort to booth spaces. The nylon construction resists shedding and dirt.
This flooring is sold in pieces for custom configuration to virtually any space. Purchase double sided tape separately at this website to further secure the pieces for safety.
Our runners are used at banquets, conferences, parties, corporate events, and conventions. They are great accessories to have if you're running a photo booth for guests, or want to dress up a walkway or outdoor bar on a porch. There is no assembly at all - they unroll in seconds and instantly your space is transformed.
Our floor coverings are easy to maintain - just give them a quick vacuum at the end of an event or before you attend your next one and you're good to go. All of these four styles are rollable and lightweight for easy transport -- buy a travel case at our website (purchase separately) to make it even easier.
Shop StanchionsDirect for temporary carpeting for events. Our website-at-large offers a full selection of stanchions and runners. Shop online today and quality floor coverings that are affordable and ship fast!